Moonie's Backstory
Created by Keith Chapman.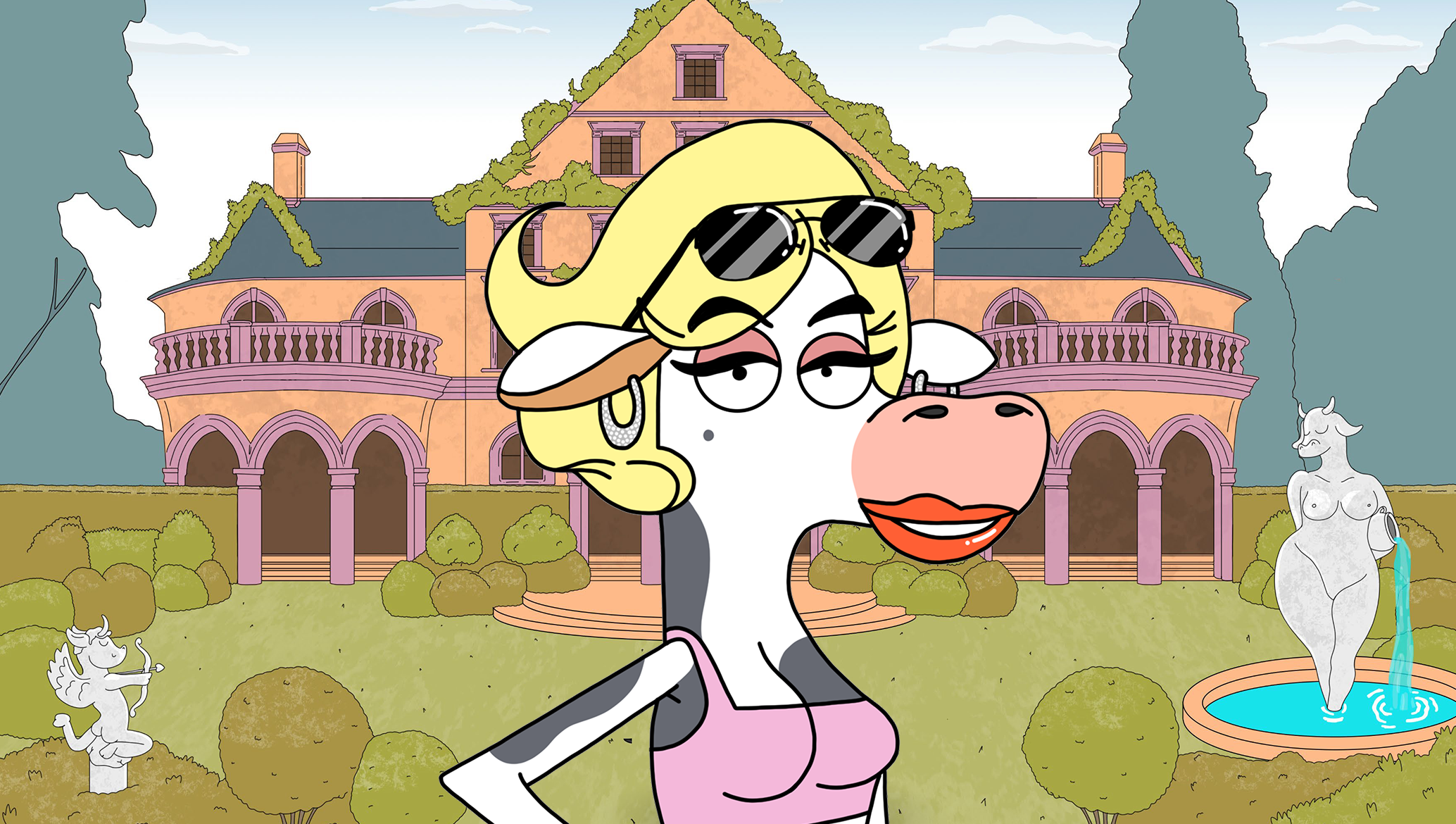 SUMMARY
Set in a semi-Zootopian world where talking animals walk on two legs to communicate and co-habitat with humans. And just like humans, there are creative and ambitious animals, who, through hard work and talent, can make their fortunes too. This is the story of one such animal, probably the biggest success of them all… a cow called MOONIE MOO!
CONCEPT
MOONIE MOO is about the life of a celebrity cow, a legendary crème de la crème superstar! She's a supermodel, actress, singer, fashion queen, cheesemaker, and influencer. She's super-rich and a super-diva too! She's the girlfriend of a famous racing driver, mother to a spoiled calf, friend of the rich and famous and an inspiration to the 'moovers' and groovers.
MOONIE MOO is a global brand. A huge icon. She's LARGER THAN LIFE!
The series follows MOONIE's daily life, a fly-on-a-barn-door documentary. It's like watching a reality show animation series. The audience will be fascinated to follow the life of a billionairess entrepreneur, meeting her extraordinary friends and business colleagues. They join MOONIE as she travels the world in her electric or solar-powered private jets, superyachts, and exotic cars, and get to see inside her magnificent palatial homes.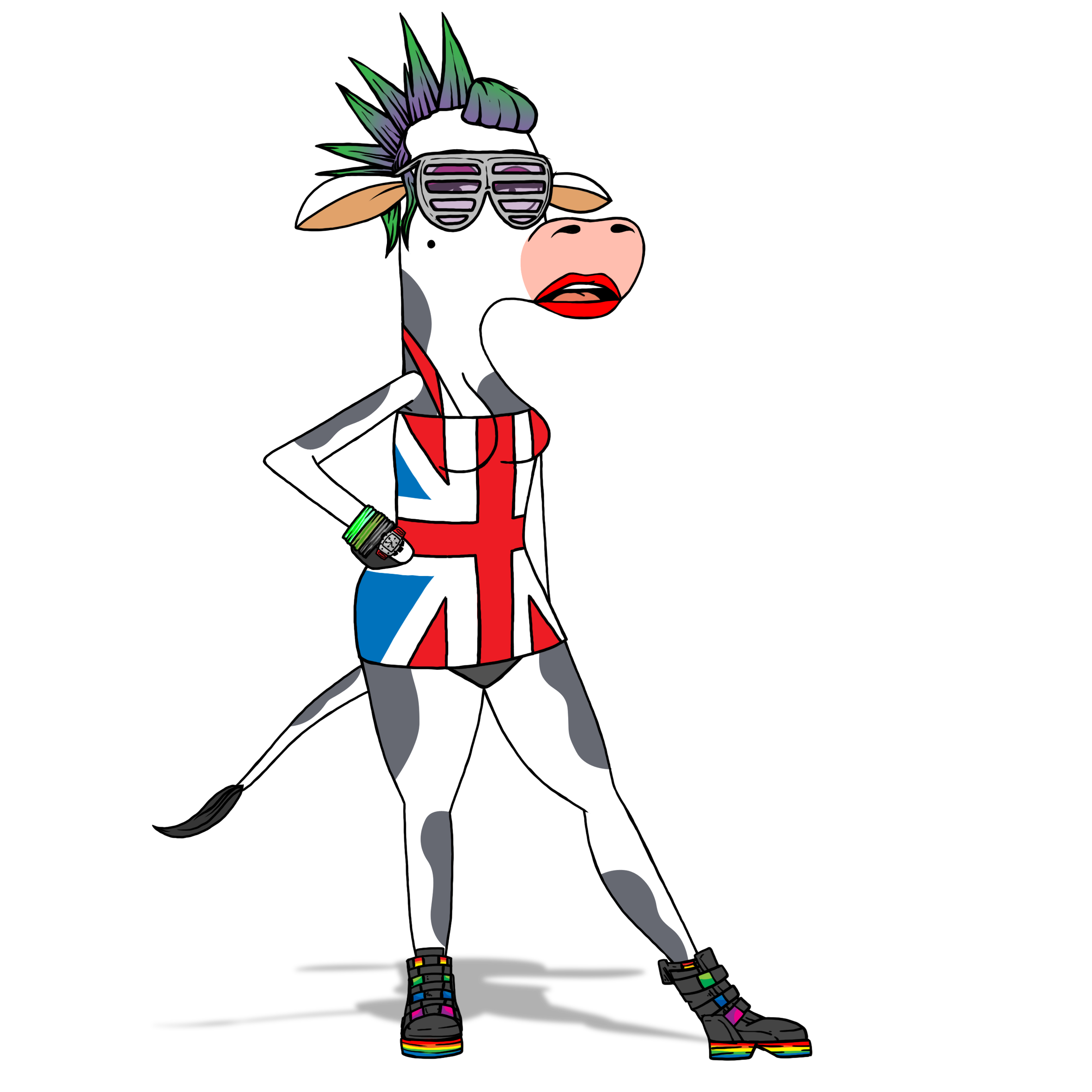 Fans will marvel at her fashion creations, the outrageous wigs, luxury watch designs, shoe and handbag collections, perfume and cheese ranges, modelling campaigns, 'moovie' appearances and her endeavours as a pop singer. Everything she creates and makes, every idea she dreams of and every product she launches, is pure gold. She's the cream that rises to the top! But it's not all sweetness and light. There's the dark side that comes with being famous. The pressures, the arguments, the falling out, the lawsuits. And the weirdos who want to get a bit too close.
MOONIE is talkative, needy, fiery, with a short fuse. She becomes the biggest drama-queen in town if things aren't going her way, throwing cow-size strops. She demands perfection from all around her. But she can also be one of the nicest, sweetest, most generous cows you'll ever meet.
THE PAST
MOONIE MOO was a young, unknown teenage Holstein cow munching grass in a field in Mooquey, Cornwall, before being spotted by TEX CHEESEBURGER, a US talent agent and lawyer.
TEX saw something special in MOONIE so he bought her from the local farmer. TEX offered £200 but MOONIE pushed him to £1,000 on the farmer's behalf, calling TEX cheap. She felt she was worth much more! MOONIE had a young daughter, MOOTILDA, who MOONIE insisted would have to come along too. MOOTILDA has never been sure who her father is. Her mother said it could have been one of several bulls she'd been with one crazy, date-mating night. TEX moved MOONIE and MOOTILDA to London. MOONIE soon signed with top modelling agency, MOODELS ONE, and MOOTILDA was tutored privately at home.
MOONIE started working on yogurt and cheese campaigns. Her big break came from advertising 'UDDERBRA' underwear. The 'HELLO BULLS' campaign turned heads, caused car crashes and MOONIE MOO became an overnight sensation. She was snapped up by fashion brand MOOUIS VUITTON and soon became the world's first international supermodel cow.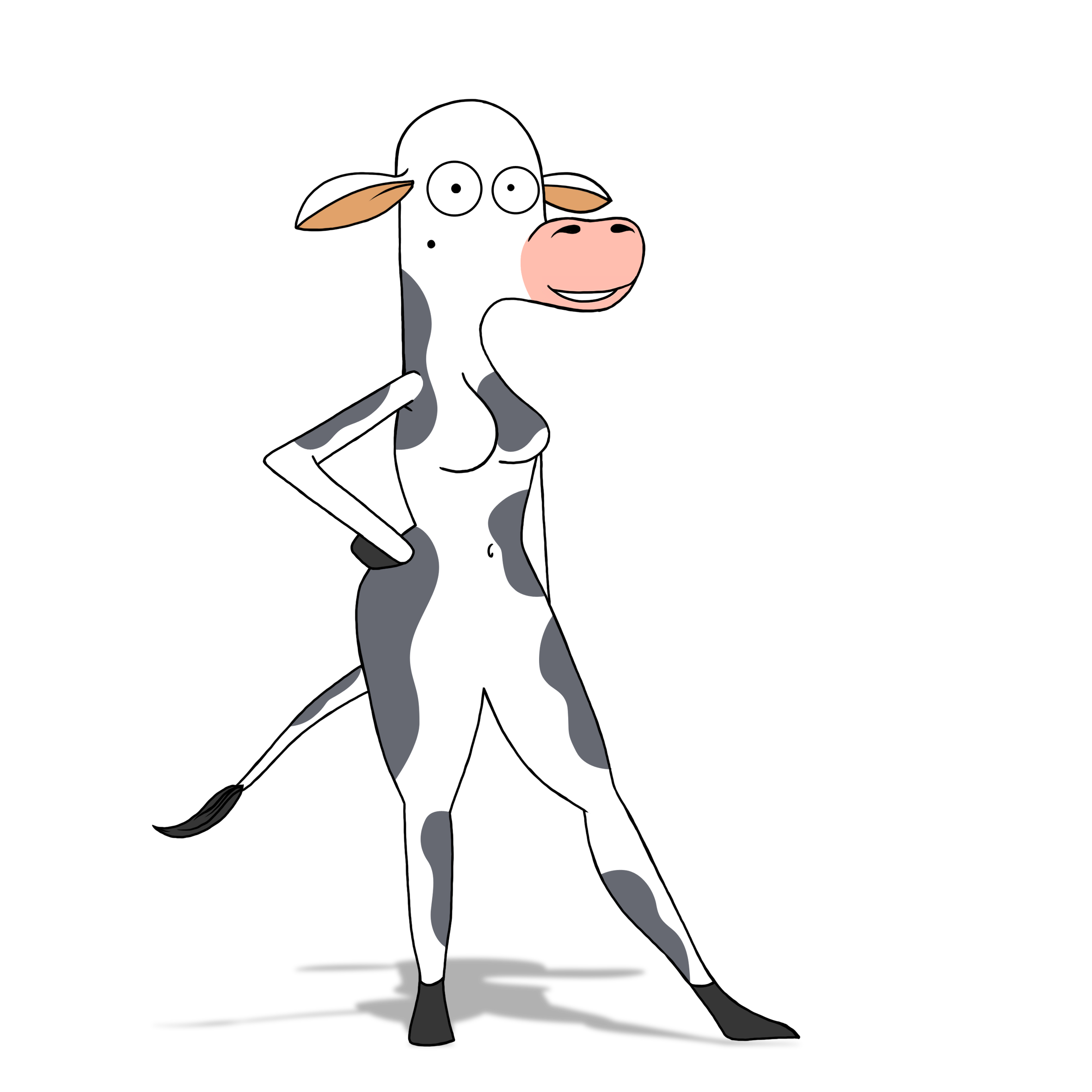 MOONIE transformed herself into a global superstar when her controversial video and pop song, 'I SCREAM WHEN I CREAM!' became a break-out hit. Her first album, 'MOO-DY LOVE SONGS' became the biggest selling first album by a female cow of all time.
THE PRESENT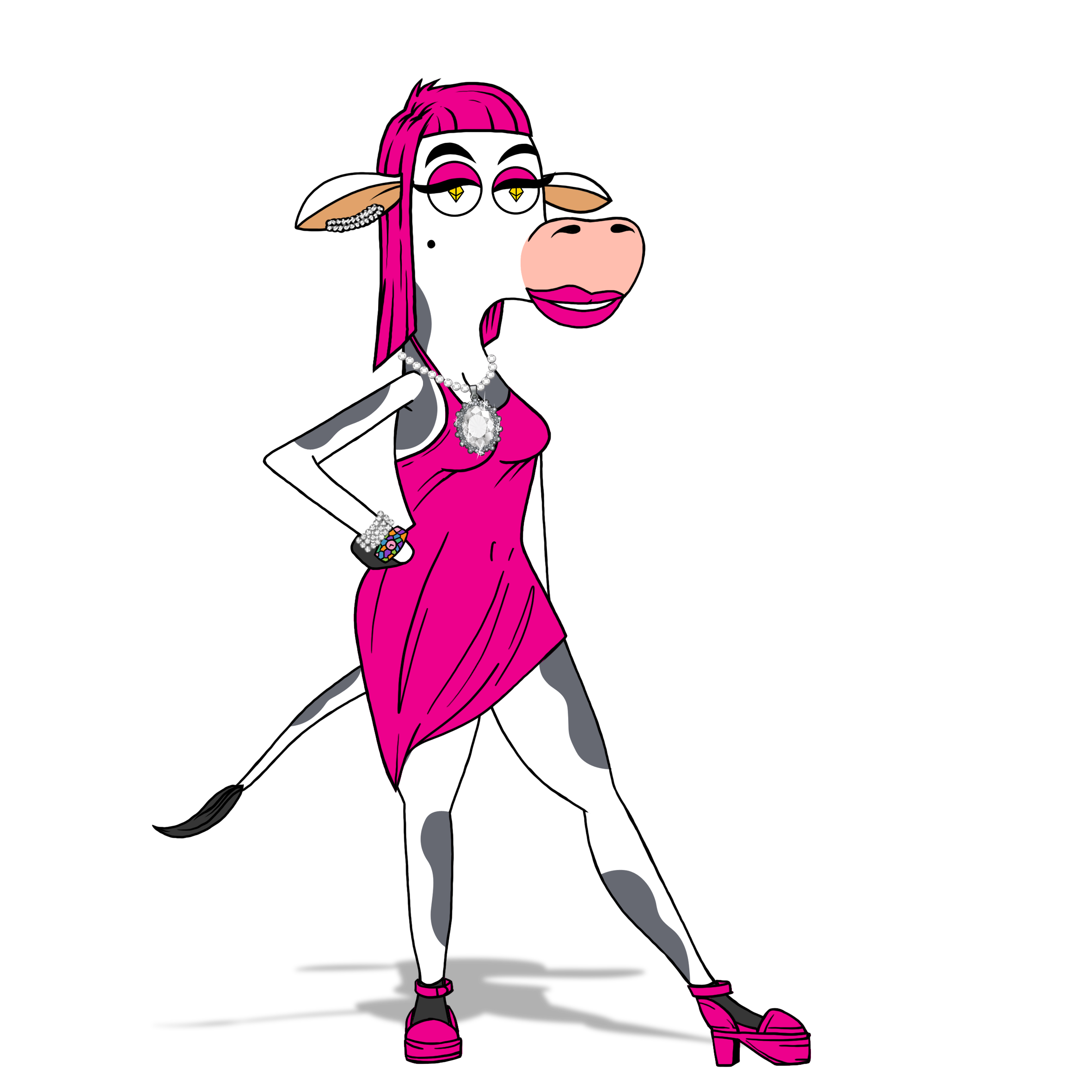 MOONIE's fame continues to grow. In recent years she has starred in several 'moovie' blockbusters including 'MOOANA' and 'MOOTOPIA'. She received rave reviews for her performance in the remake of 'THE SILENCE OF THE LAMBS' called, 'THE MOOING OF THE COWS'.
Over the years, MOONIE MOO has built a globally successful fashion brand which spans clothes, jewellery, watches, and perfume. If that wasn't enough, she also launched a limited-edition, award-winning cheese brand made from her own milk, inspired by the number of times she's had to smile in front of a camera. She named it 'SAY CHEESE!' It's no wonder MOONIE has become an influencer with millions of followers all over the world. (Many of them cows).
THE FAMILY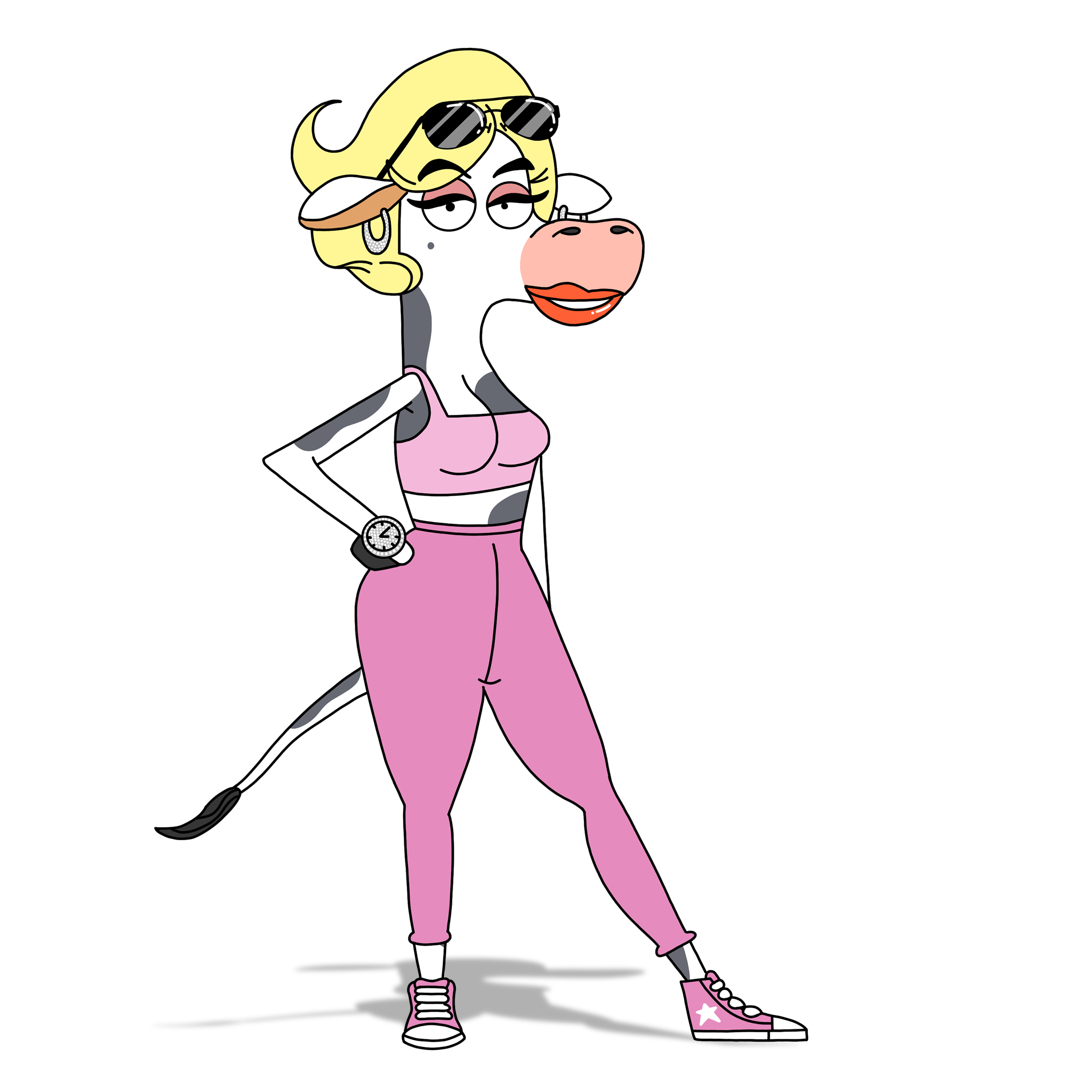 Moonie Moo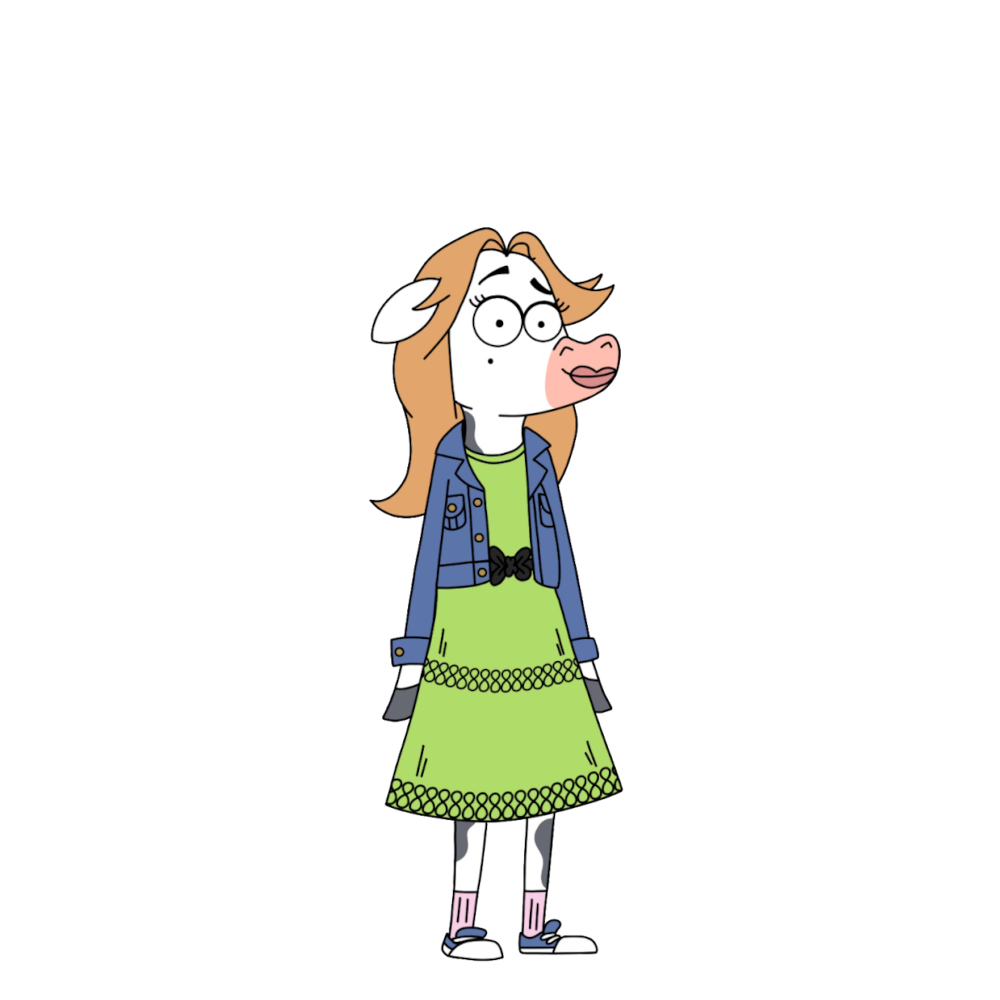 Mootilda
Mootilda
MOONIE's ten-year-old daughter is super smart and keeps her mum grounded by always being honest and giving advice well beyond her years. MOOTILDA is always trying to gather DNA evidence from MOONIE or ANGUS's bull friends that come round to visit, through saliva or hair samples, which she analysis under the microscope. She is desperate to find out who her real father is.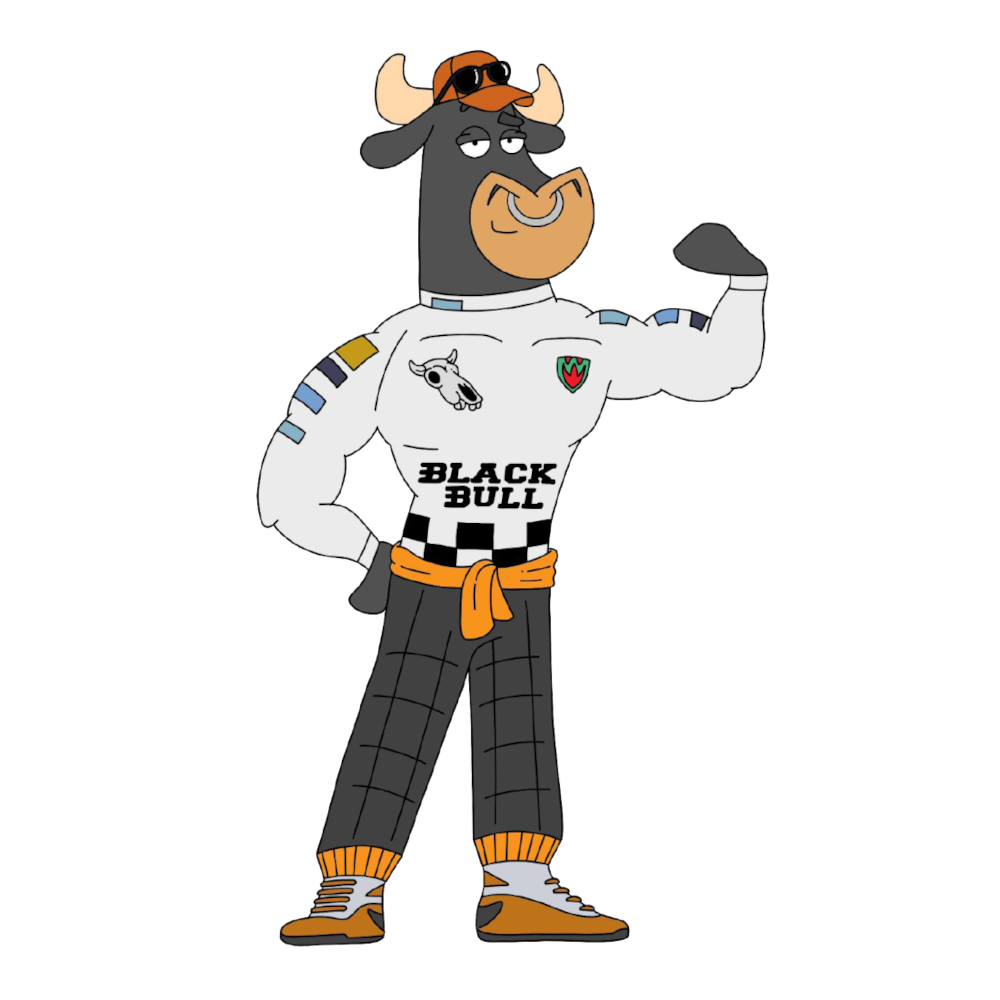 Aberdeen Angus
Aberdeen Angus
MOONIE's current boyfriend, and the world's No 1 racing car driver. He's a ripped bull from Scotland who drives for the Black Bull racing team. MOONIE knows that ANGUS has an eye for the ladies which causes heated arguments between them. He has a collection of supercars, the BULLGATTI NOIRE and MOOCEDES 'BEAST' being his favourites. ANGUS tries to keep them in showroom condition but is known to have dented a few when sitting on the bonnet taking selfies. And because of the tight fit, he sometimes needs a crane to lift him out.
PUPPIES
Moonie Moo has five British Bulldog puppies, who take turns to travel the world with her and who pee on everything.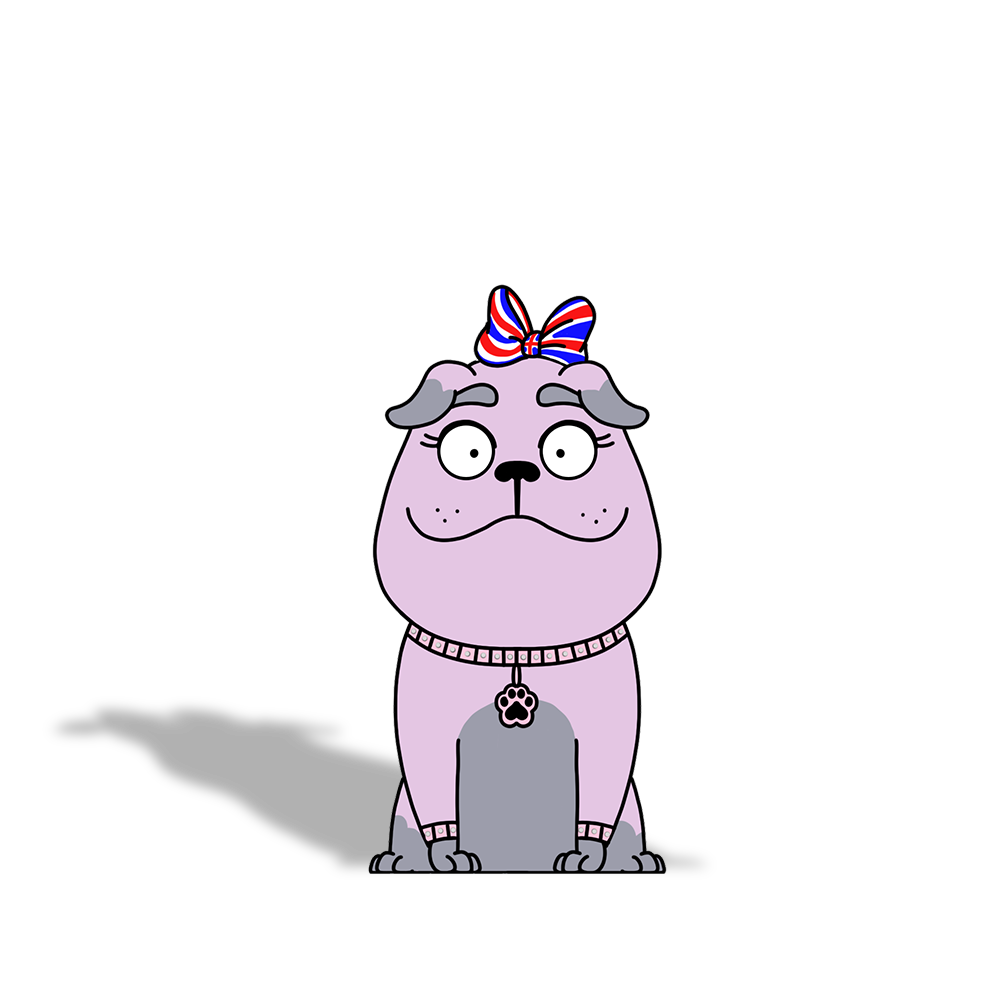 Pippa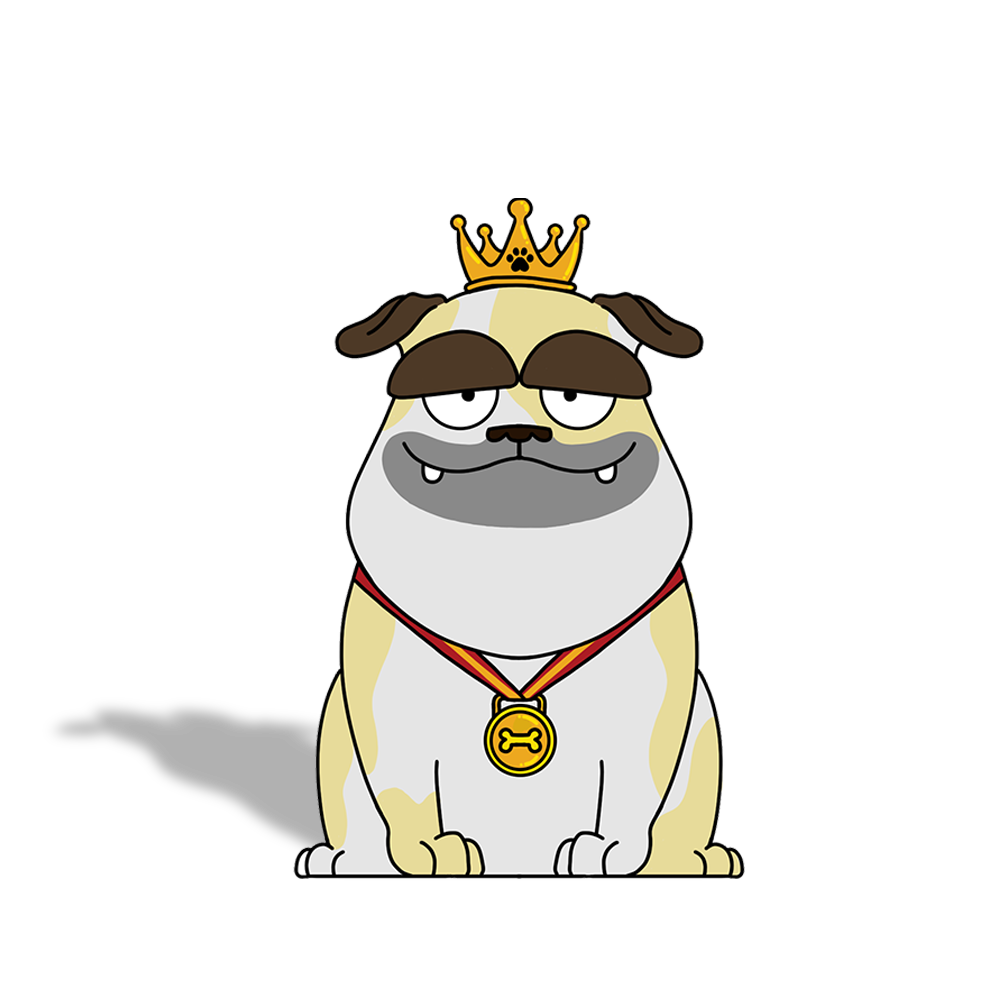 Prince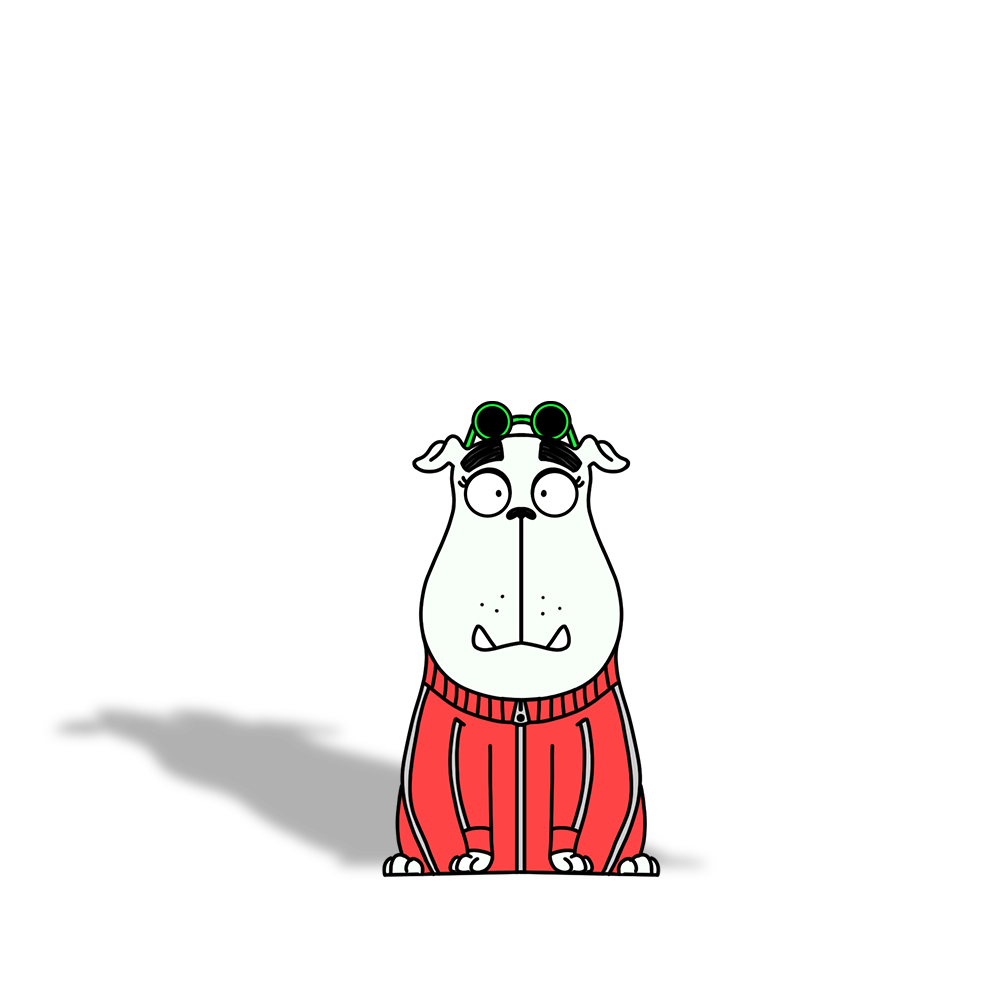 Peggy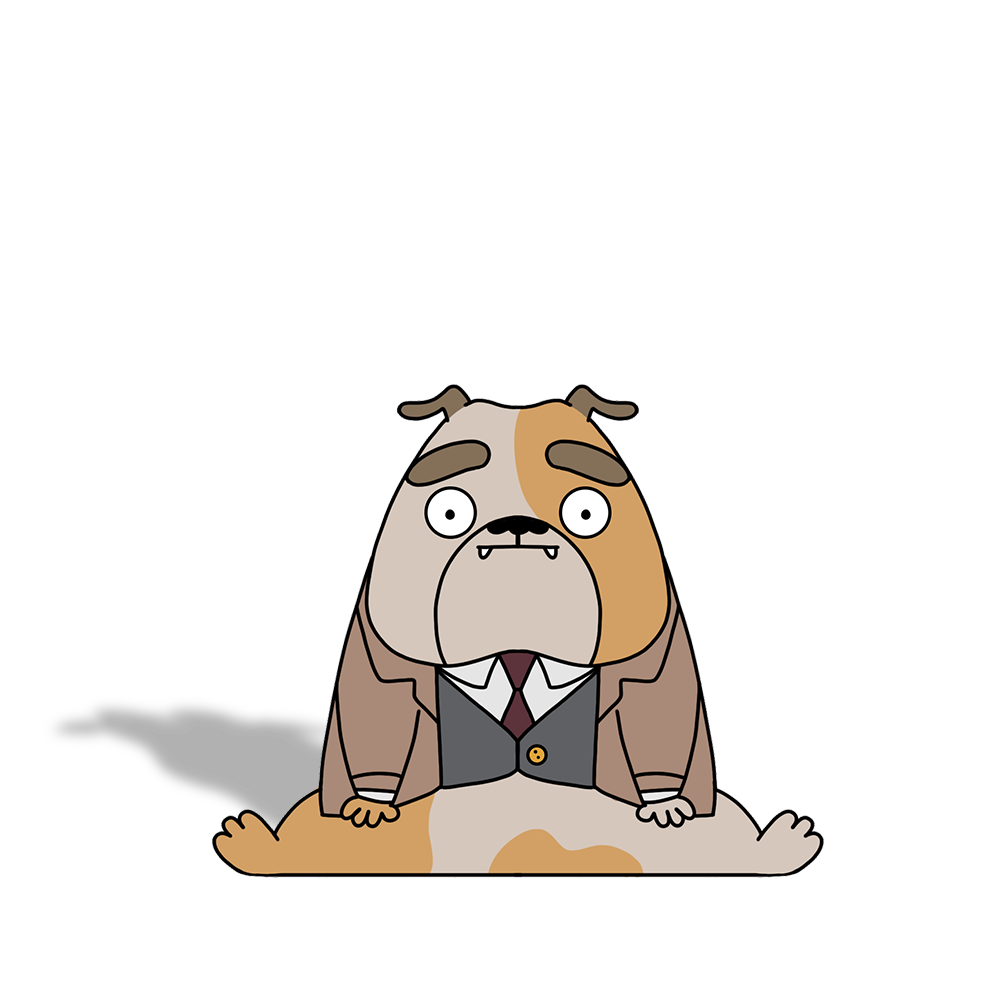 Porky
Posey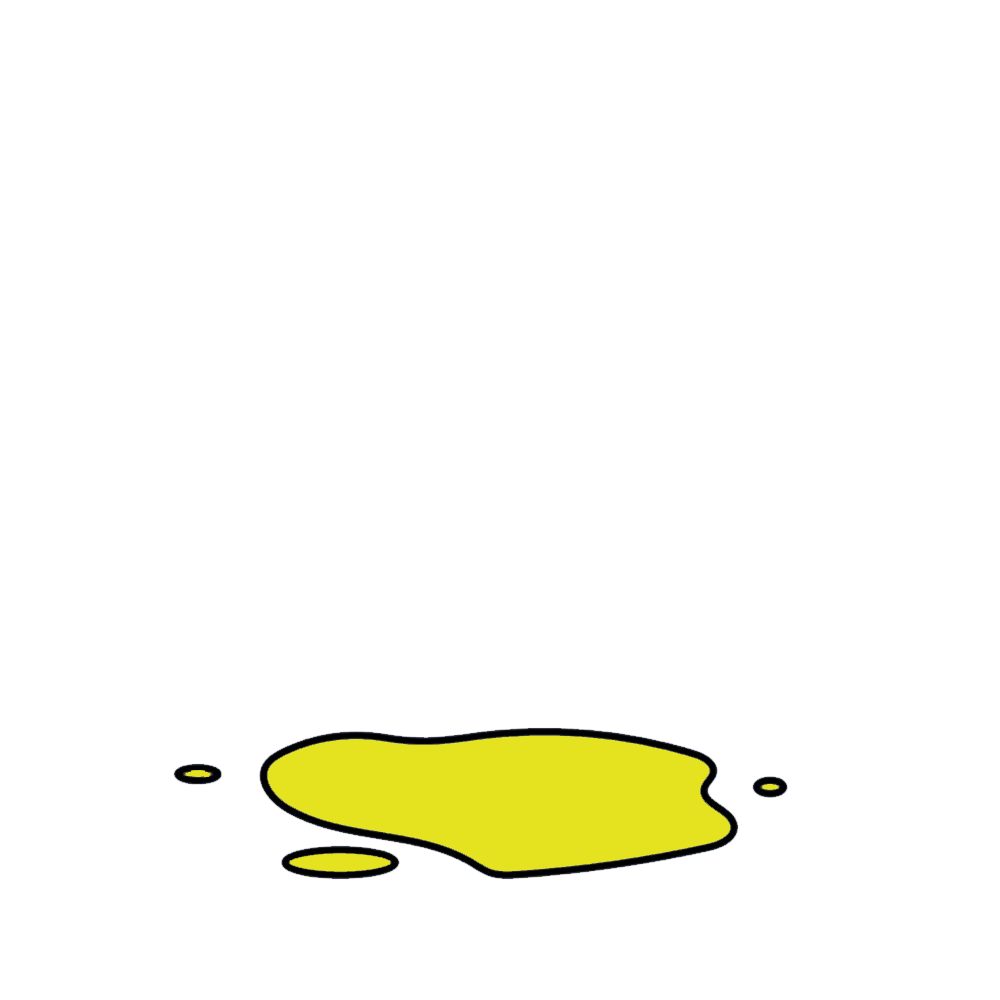 Pee
Do you have a Puppy? If so, show it off! #mooniemoo
HUMAN STAFF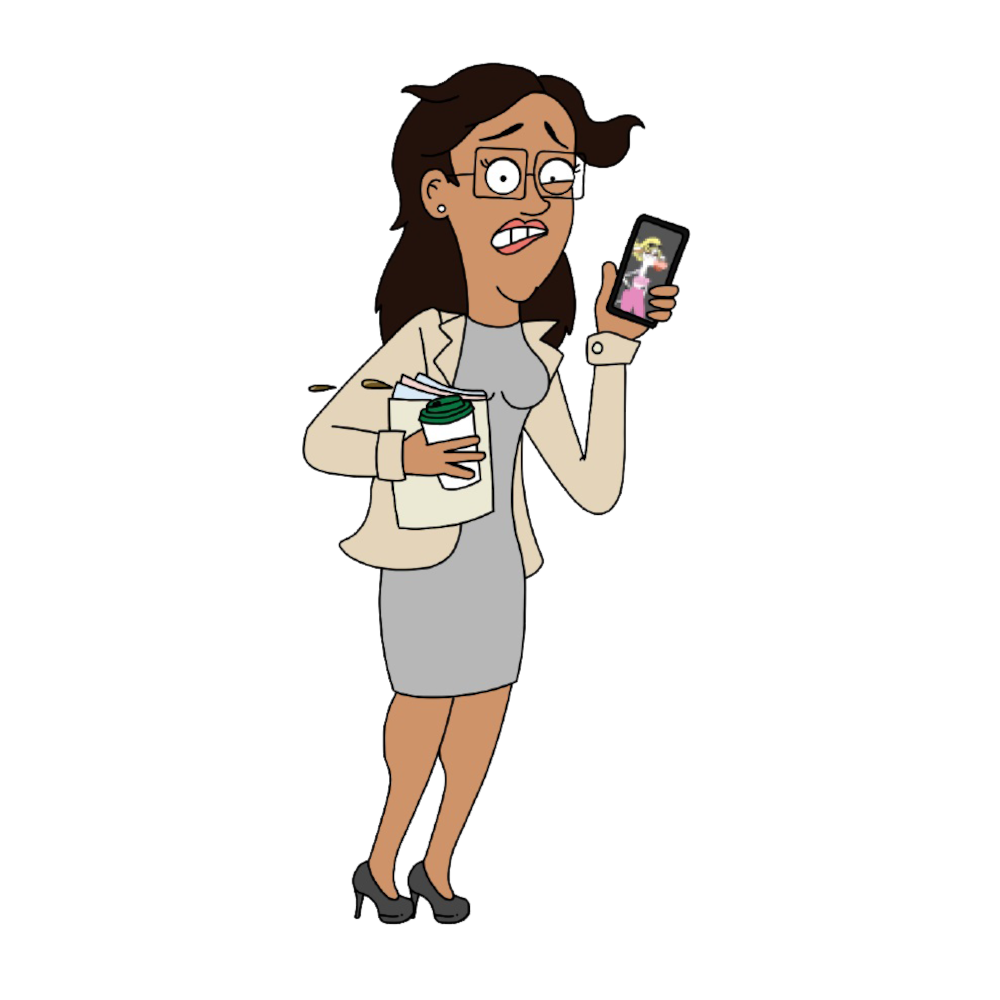 Betty Buttermilk
Betty Buttermilk
Stressed out, neurotic PA to MOONIE.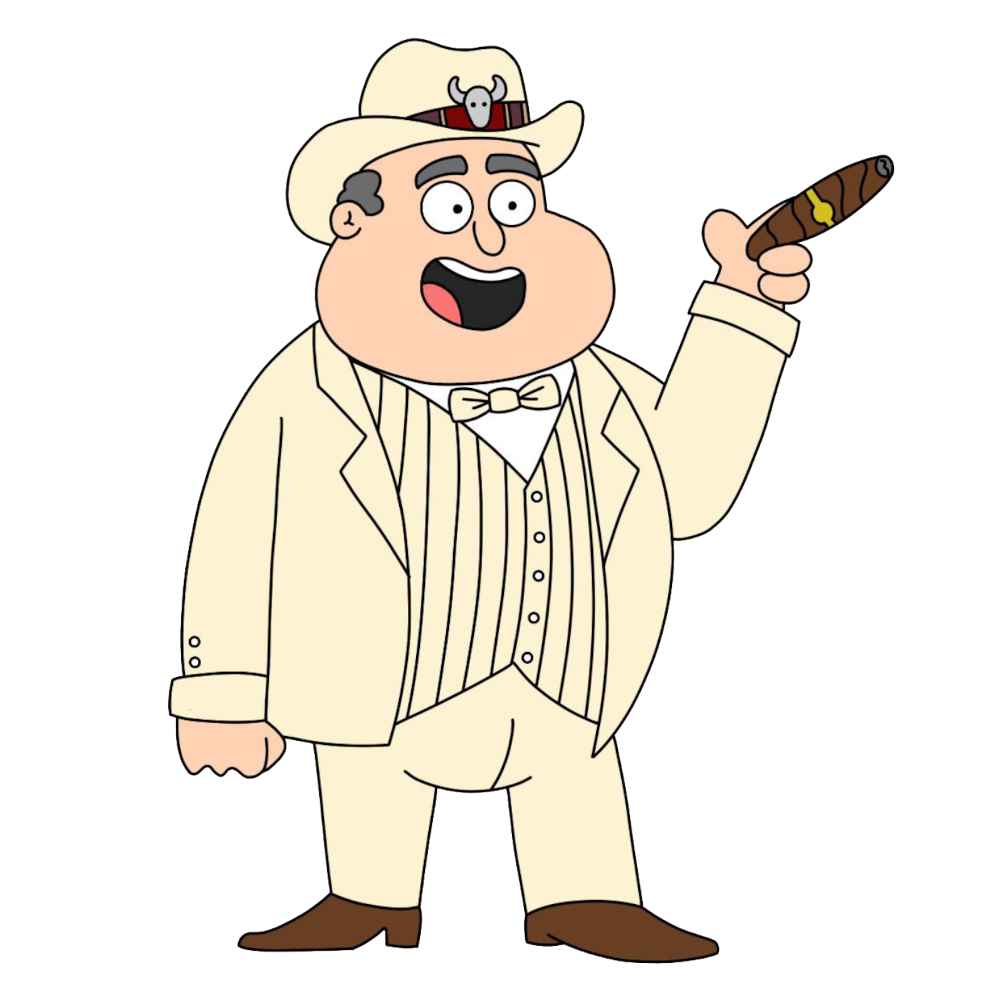 Tex Cheeseburger
Tex Cheeseburger
Loud Texan lawyer who acts as agent to MOONIE and handles all family business affairs.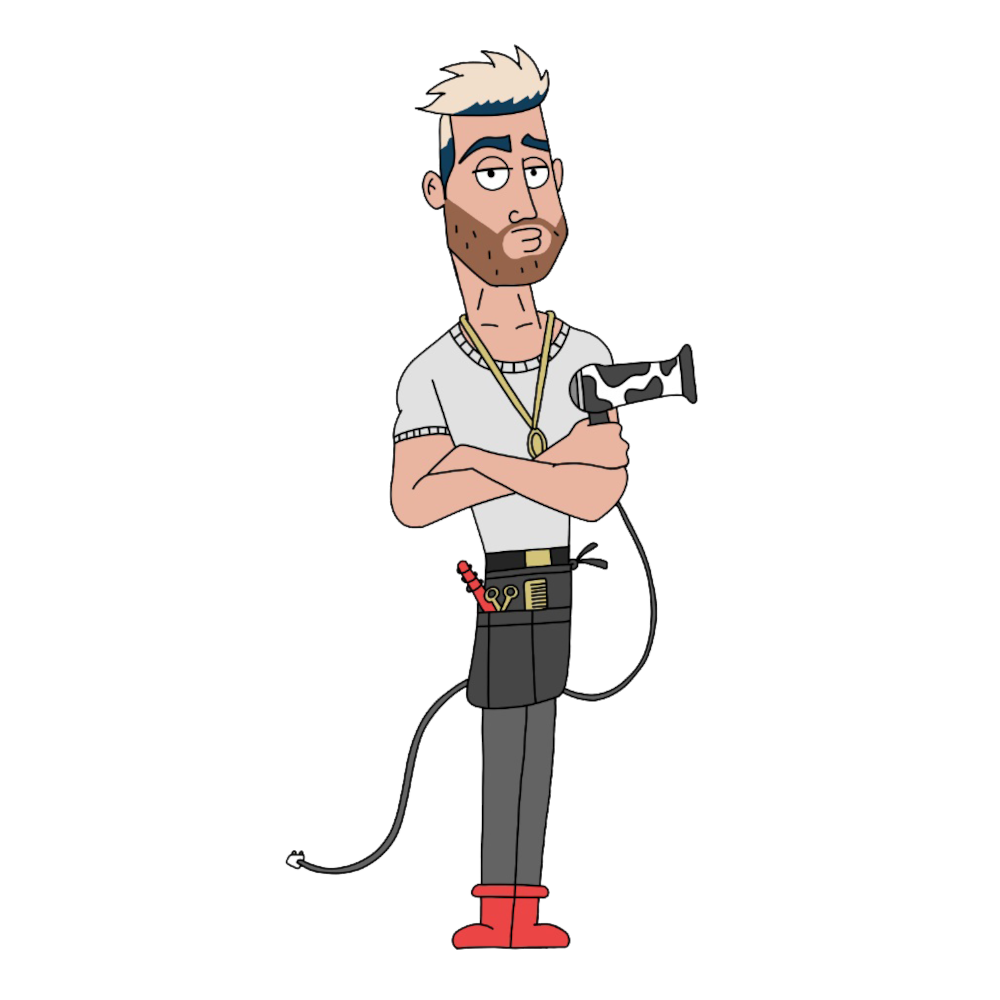 Wavey Davey
Wavey Davey
MOONIE's camp hairstylist who loves to gossip and tell tales.
Captain Portside
Captain Portside
Red-nosed captain of THE LUCKY COW. He looks after the yacht as well as the drinks cabinet.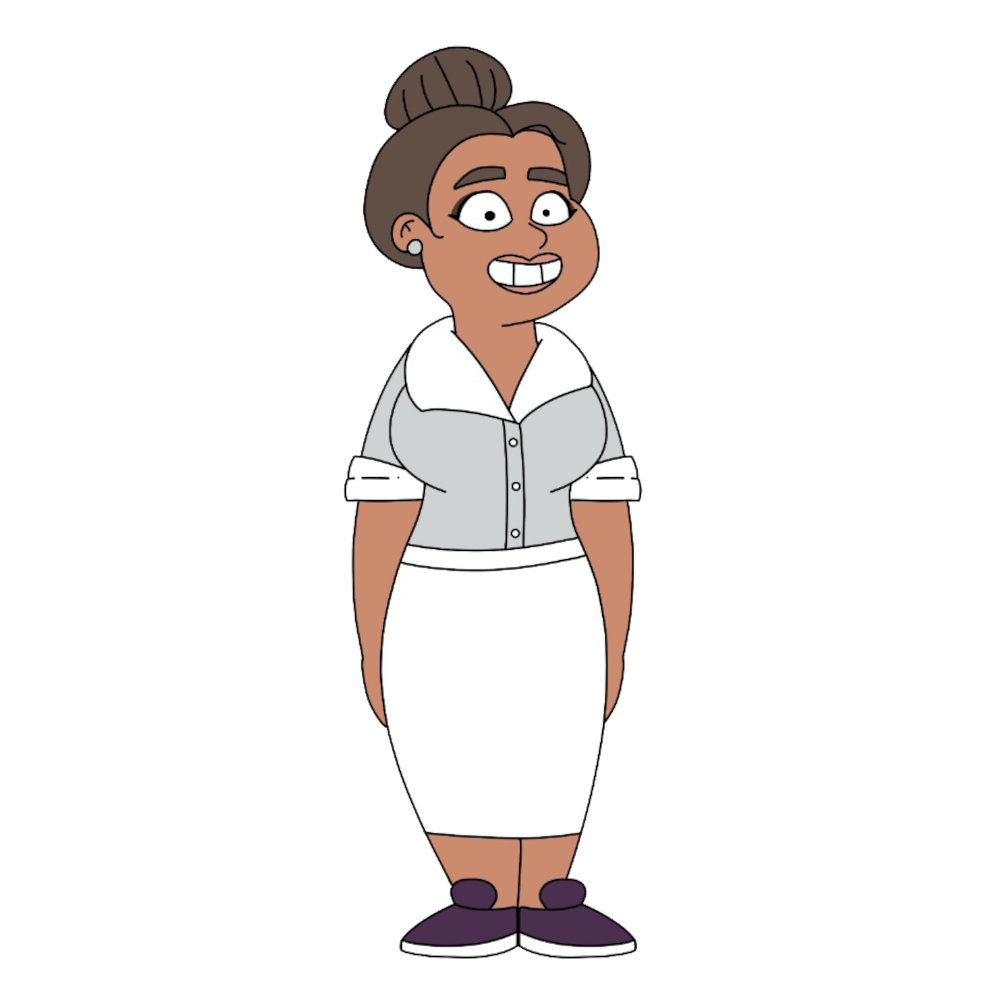 Polly Pledge
Polly Pledge
Housekeeper and maid.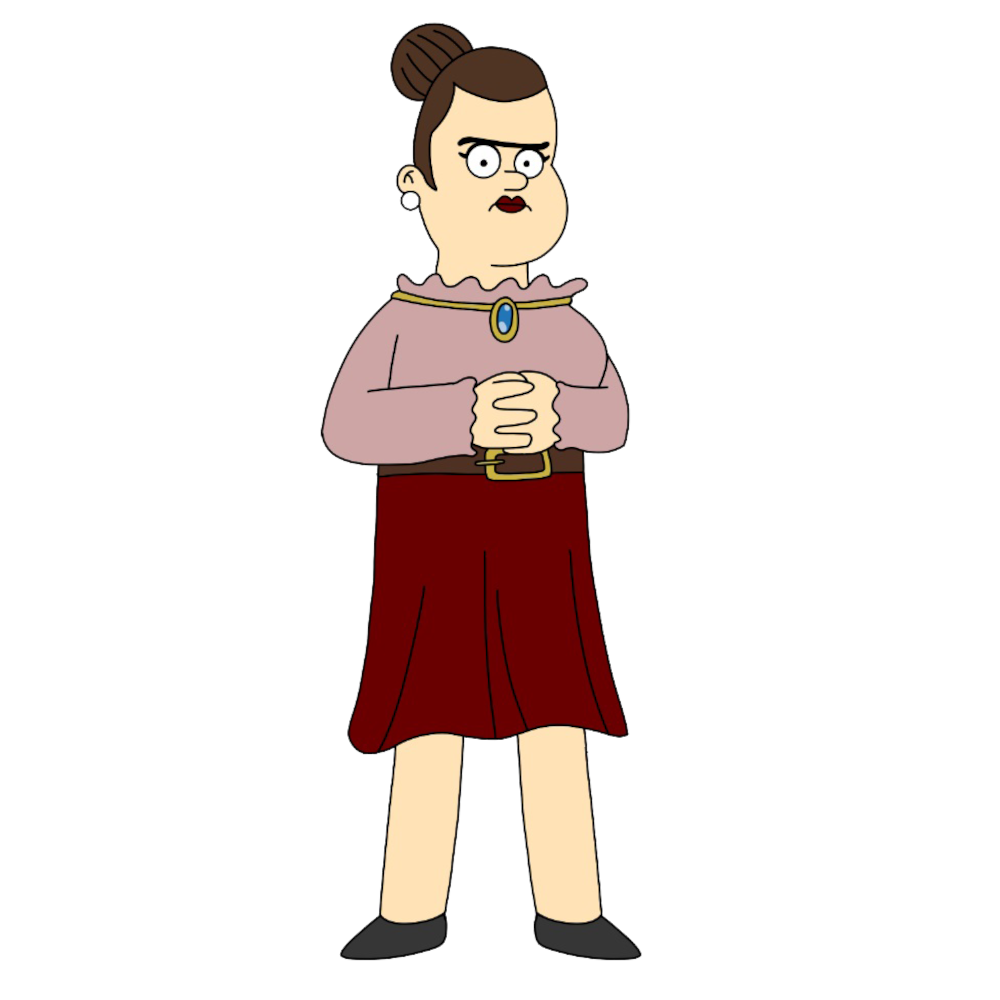 Heidi Stricht
Heidi Stricht
Overly bossy German tutor for MOOTILDA. Secretly a spy, in the payroll of BEEFY BRANOCK.
BOVINE STAFF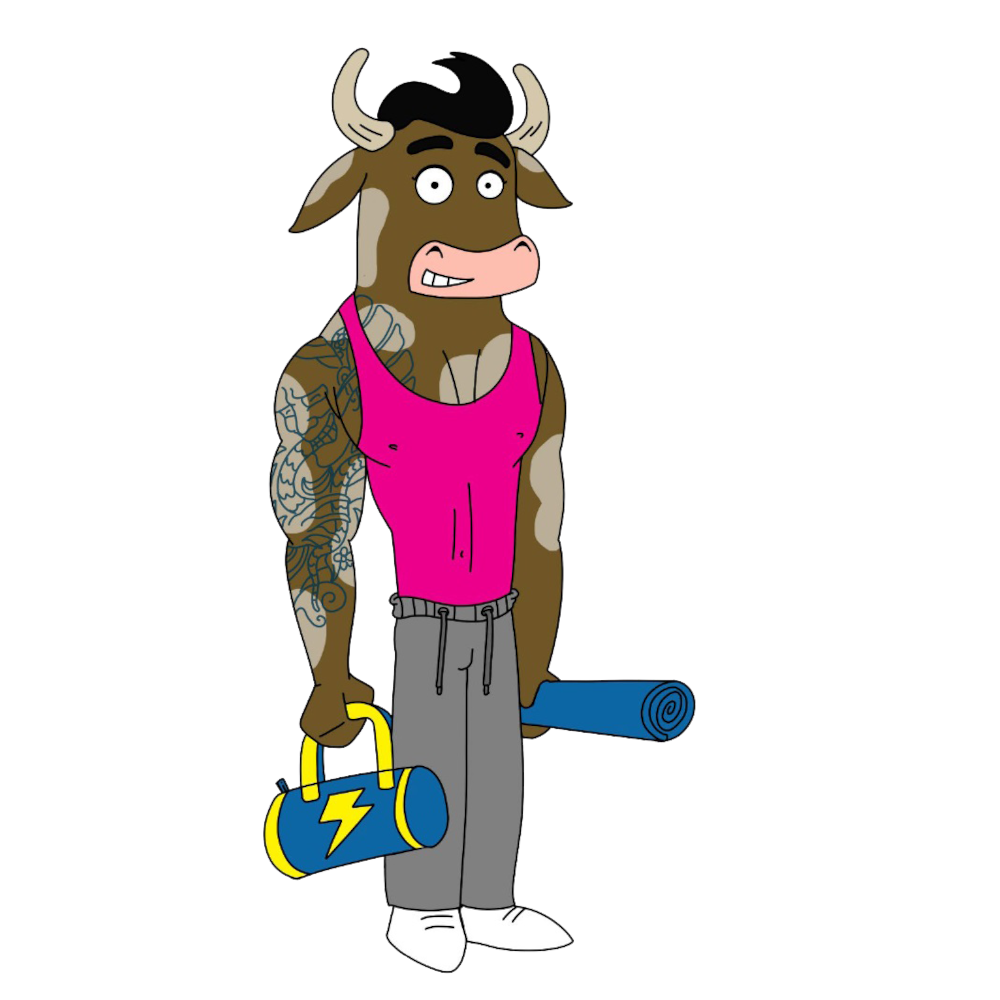 Rump the Pump
Rump the Pump
Gay US bull who is MOONIE's pink lycra-clad personal trainer. Due to his clumsy feet, he causes accidents resulting in him and MOONIE always ending up in innocent but compromising positions just as ANGUS walks in.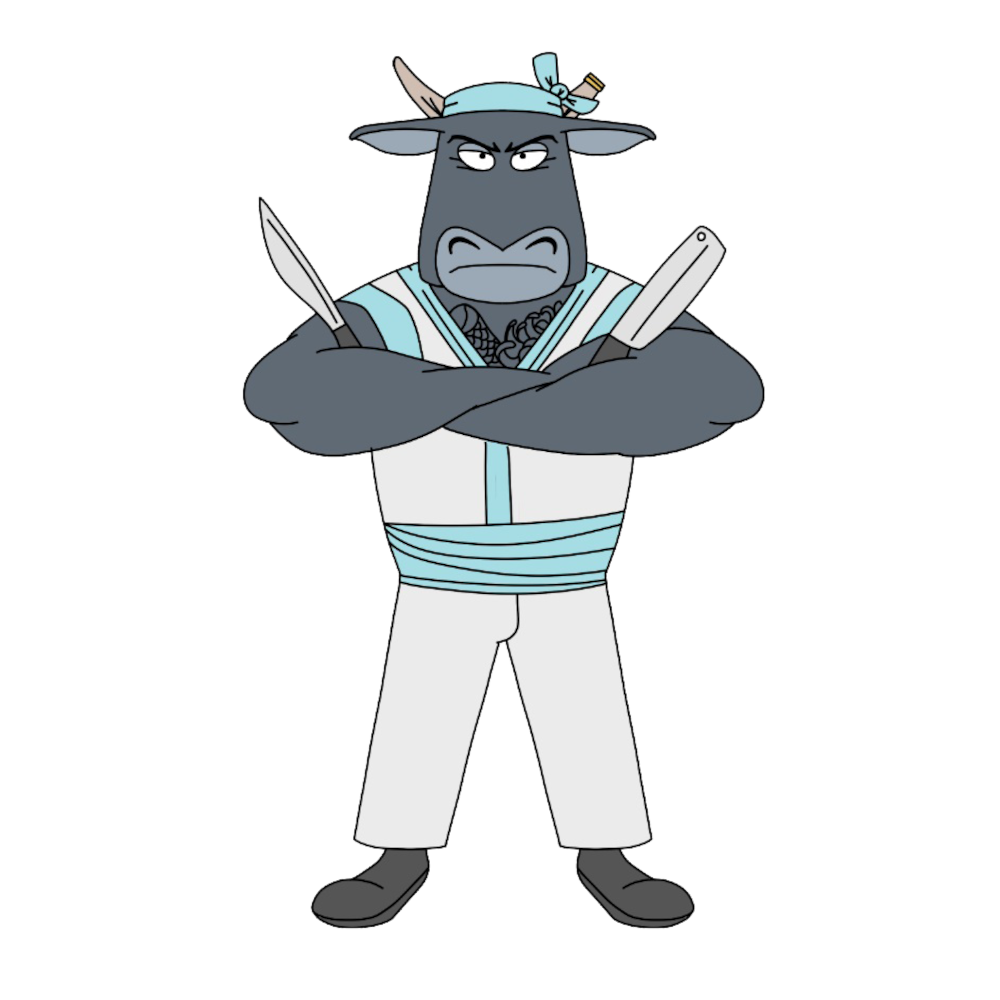 Wally Wagyu
Wally Wagyu
Ex-Yakuza Japanese bull who doubles up as the family bodyguard and chef, specialising in Sushi. RUMP THE PUMP sometimes gives him a massage, but having seen how skilled WALLY is with knives, would never dare offer extras.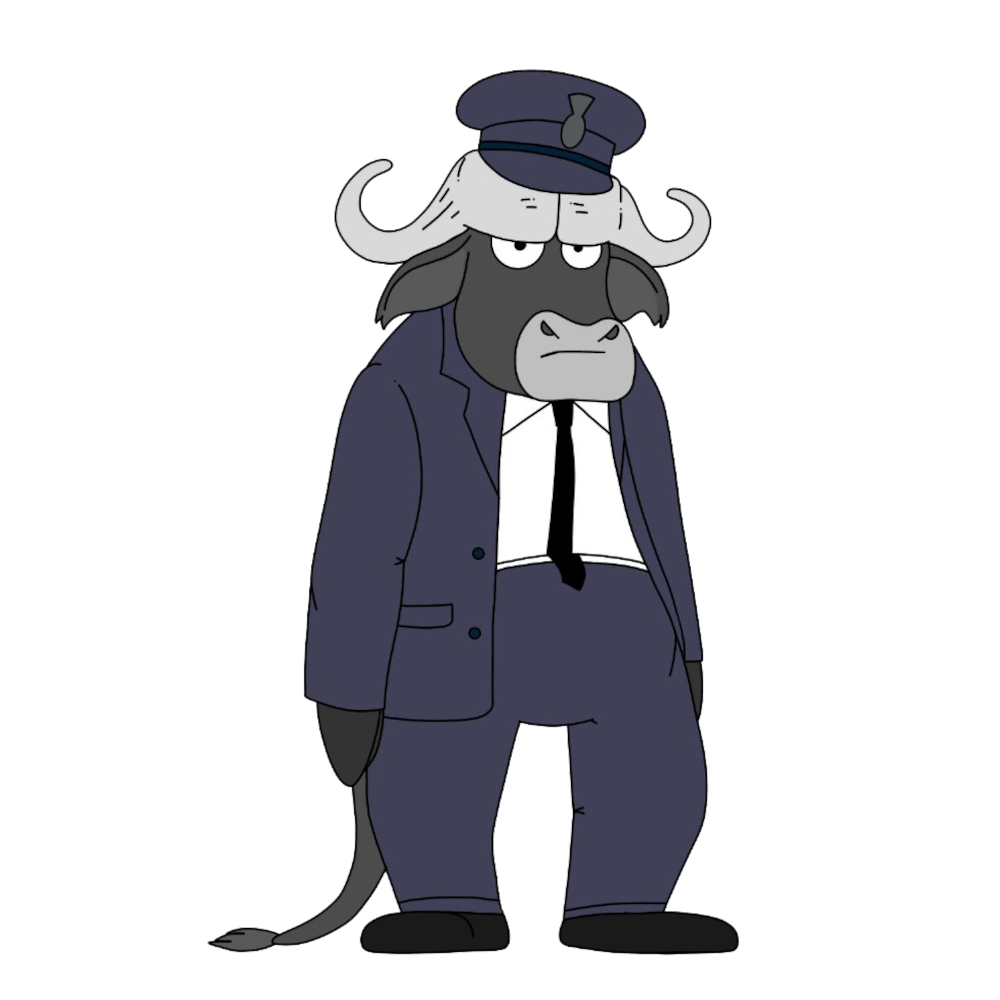 Dagga
Dagga
Grumpy, old African buffalo employed as the chauffeur.
FRIENDS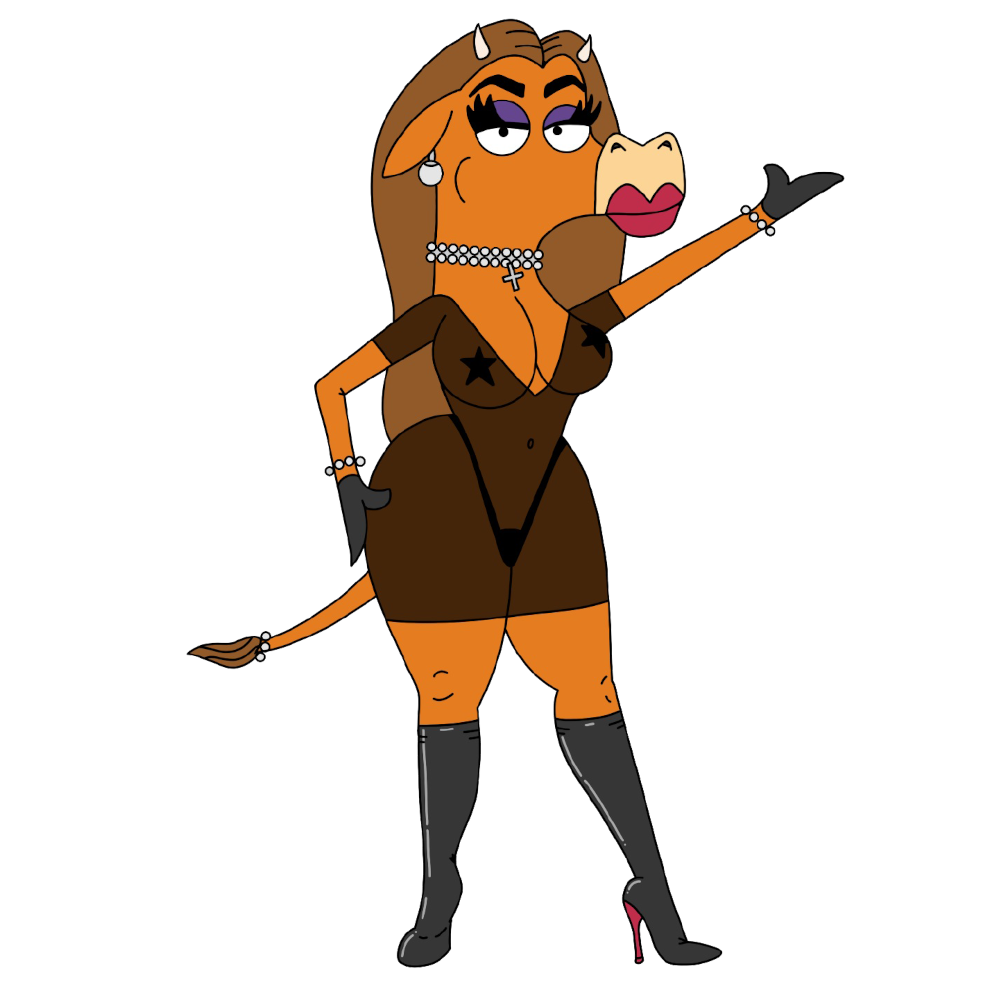 Olga Bullshi
Olga Bullshi
A sex-crazed Limousin cow. One of MOONIE's best friends.
Lady Baa Baa
Lady Baa Baa
Legendary singer-songwriter/ actress sheep, who MOONIE met on the set of 'THE MOOING OF THE COWS'. LADY BAA BAA and OLGA BULLSHI are regular guests at MOONIE's legendary dinner parties held at her homes in MOO YORK and LAKE COMOO, or onboard MOONIE's luxury yacht in MOONACO, the 'THE LUCKY COW'. Here, WALLY WAGYU likes to impress with his knife skills and Sushi creations. He has a soft (crab) spot for OLGA.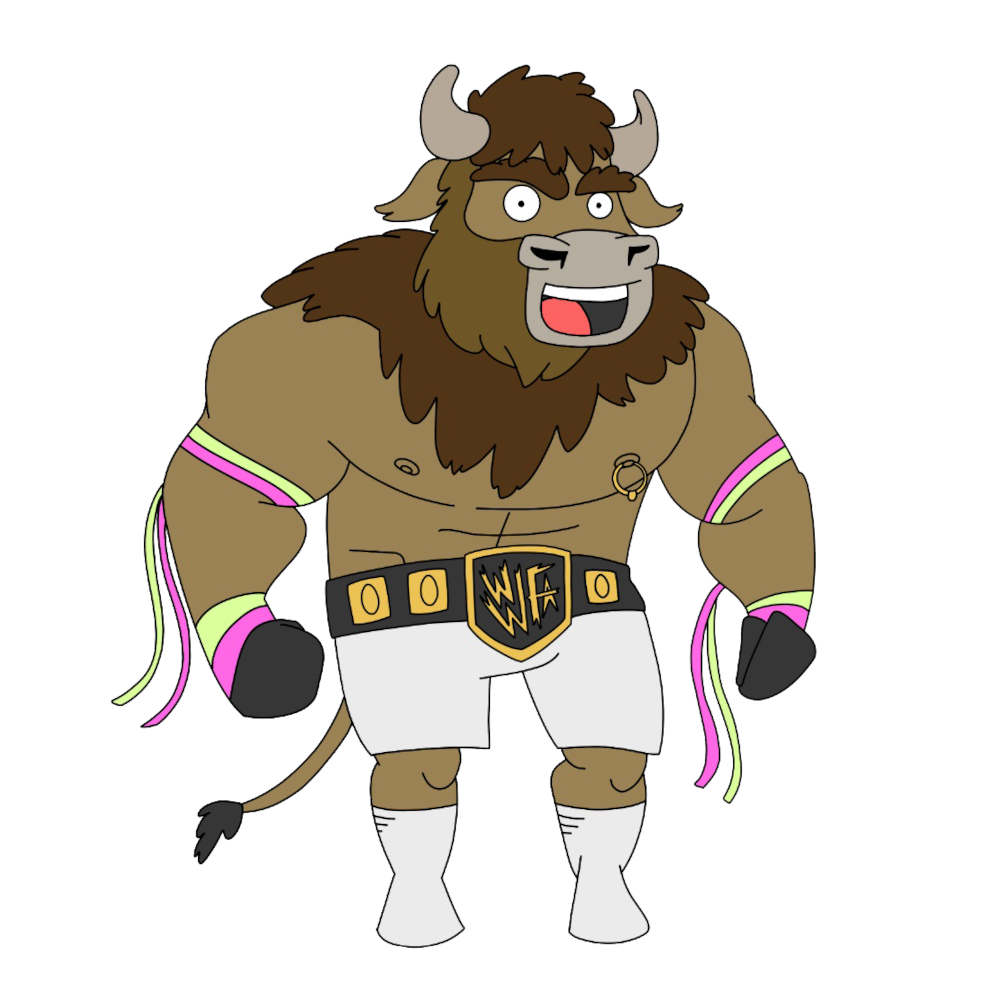 Buffalo Bill
Buffalo Bill
World Wrestling Farm Animal (WWFA) Champion and a good friend of ANGUS's. MOONIE is an environmentalist who supports several charities, including the WWFA. They promote animal welfare by organising events where wrestling farm animals beat the crap out of each other. MOONIE dreads BILL coming to visit onboard THE LUCKY COW. He's like a bull in a china shop, always accidentally smashing crockery or priceless sculptures, and emptying the jacuzzi, along with everyone sitting in it, whenever he jumps in.
ARTISTES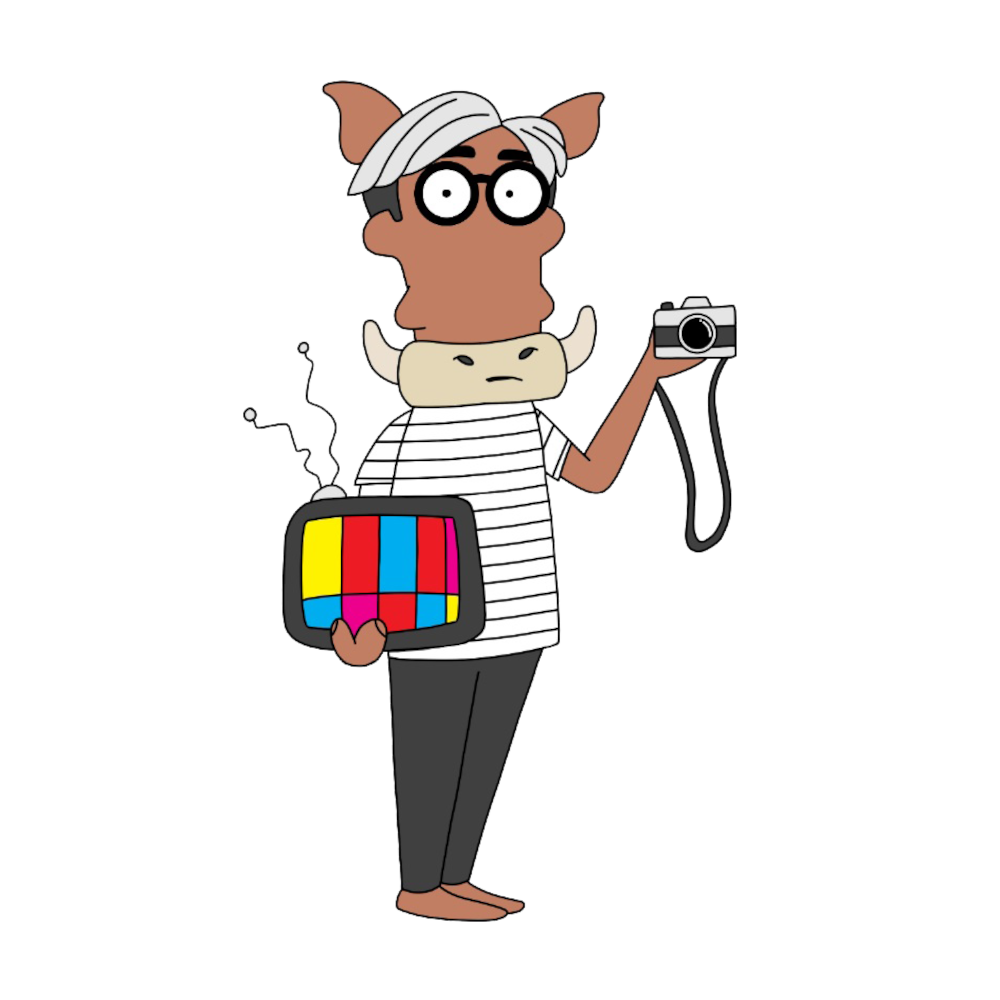 Andy Warthog
Andy Warthog
A famous warthog pop-artist who likes to paint MOONIE. Sometimes MOONIE dresses in sexy scarlet udderwear, wearing poppy-coloured lipstick and crimson JIMMY MOO shoes… which makes ANGUS see red!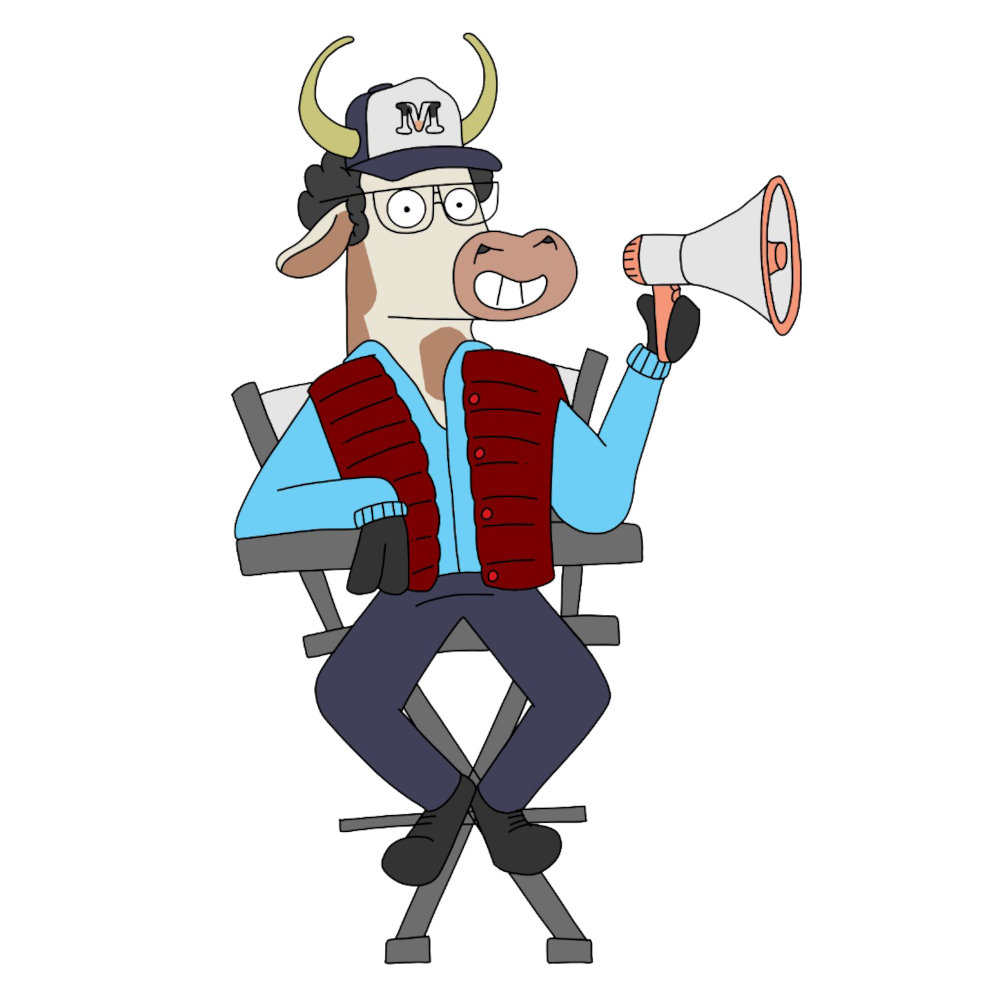 Jerry Truckheifer
Jerry Truckheifer
Female film producer/director who is built like a truck and dresses like a man.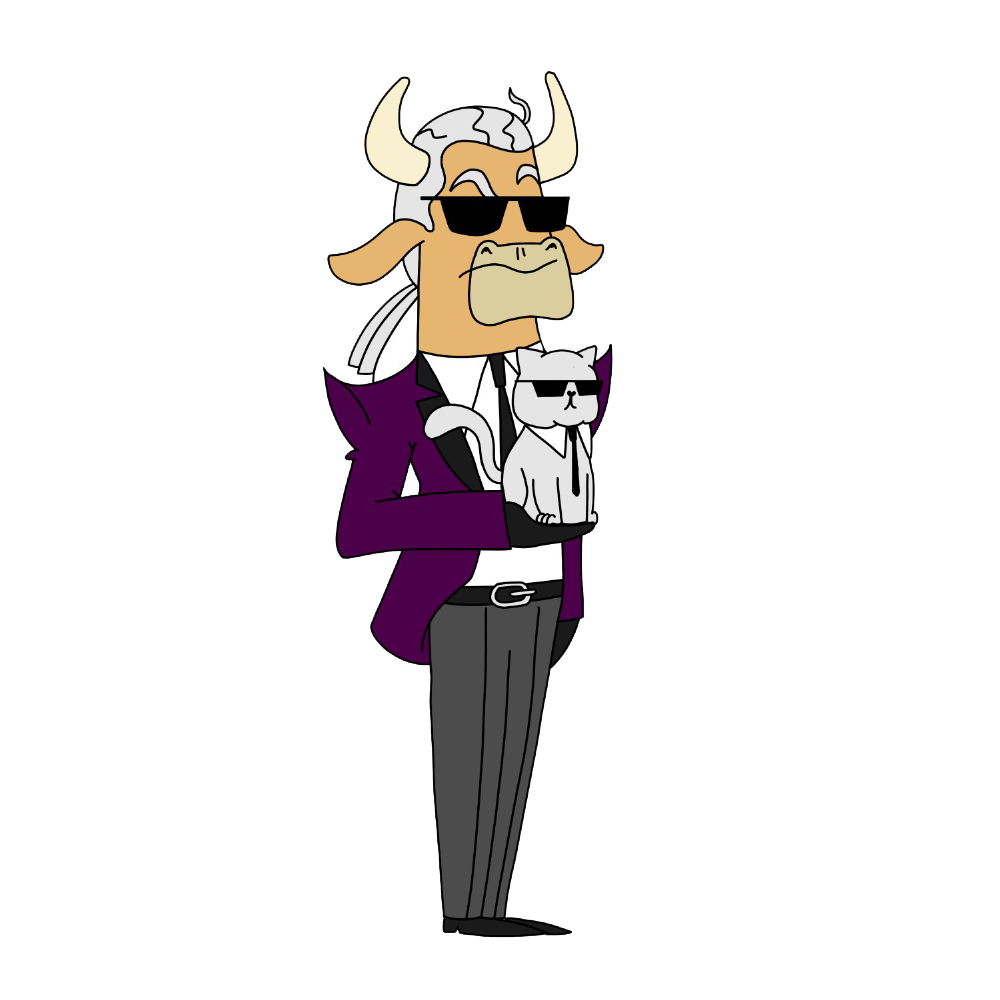 Moouis Vuitton
Moouis Vuitton
French fashion designer who has signed MOONIE to model his creations.
BAD BULLS
Beefy Branok
Beefy Branok
A sleazy bull from Devon who tells everyone he was one of the bulls who copulated with MOONIE on her fateful mating-dating night back in MOOQUEY many years ago… and he has the photos to prove it! BEEFY claims to be MOOTILDA's father but he's full of bulls@*t, only looking to get his greedy hooves on some of MOONIE's fortune. This rogue is now head of a small gang of criminals, who turns up every now and then on MOONIE's doorstep like a bad smelling cow-pat. MOONIE tends to pay him off, rather than risk him releasing the alleged photos to the press.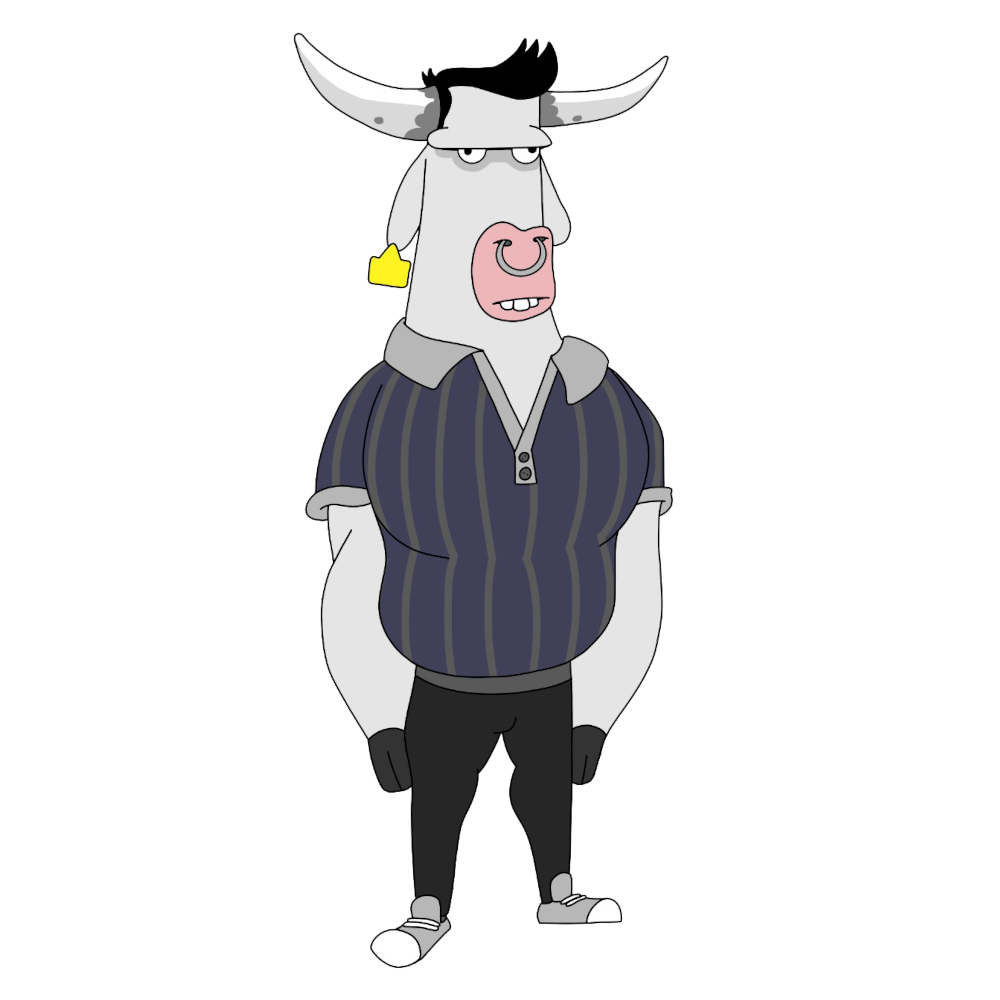 T-bone
T-bone
Dopey member of BEEFY's herd. A giant of a bull but with the intelligence of a fly.